The Race into the Future: Your guide to Extreme E
This year saw a new race spitting sand in Saudi Arabia. Then it did the same in Dakar, a location synonymous with daredevil driving and etched into the minds of race fans all over the world. Next up is Greenland. Yes, Greenland. So what is this weird and wonderful race moving from desert to ocean and even to the arctic circle?
It's called Extreme E. It's a race with passion, professional drivers... and a very specific purpose. And it's going to be great fun.


The Concept
Alejandro Agag was born in Madrid, Spain. An intelligent chap, educated at the right places and growing up with the right connections, he's done alright for himself. Back in 2007, the Financial Times described him as a 'political hopeful, economist, banker and indefatigable dealmaker". He's one of those chaps who seems to be good at everything and knows everyone.
Gil de Ferran was born in France. Of Brazilian heritage, young Gil liked to drive fast. In the British Formula 3 Championships, he scored a 3rd place behind future F1 legends Rubens Barichello and David Coulthard. Gil would go on to win the following year. He never made it to F1 as a driver but he did make it as a boss, for both BAR-Honda and Mclaren.
In 2018, Alejandro and Gil were enjoying breakfast together. Over their morning cup of coffee, they started talking about motor racing and throwing ideas around. Both keen on environmental causes, they began discussing ways a motorsport might help bring some attention to climate change and the environmental plight of the world. It might seem an odd concept but they had an idea.
What if they could take a race series to stunning, world class locations all over the globe and highlight issues at the same time? What if they could use electric vehicles fuelled by hydrogen and driven by famous drivers from different racing disciplines? All they would need is a large vessel to ship everything from place to place, lots of money...and someone to invent vehicles that can handle everything from sand to snow.
That's a lot of big ideas before your morning Weetabix has settled in your stomach. They were obviously men of action...and possibly really, really strong coffee.
Extreme E was announced to the world from aboard RMS St. Helena in February 2019. Moored up in London, it seems the men had their ship and the breakfast talk had progressed. Now they just needed some vehicles, people to drive them and locations to race them. Simple then.
The Vehicles
Designing a vehicle which can traverse both deserts and the arctic tundra cannot be easy. But it's what every team in Extreme E uses. A 400kw beast that's 2.3 metres wide and goes by the name of Odyssey 21. This is no ordinary beast either. Let's start with the tyres.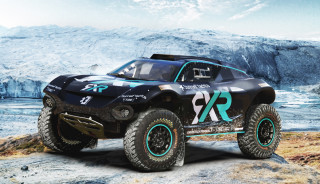 The challenge facing Continental was significant. They may spend more on Research and Development than any other tyre company in the world but...a tyre that can grip snow, sand and everything in between? That can also handle the immense amounts of torque of a powerful, custom built EV? And those 55 degree inclines?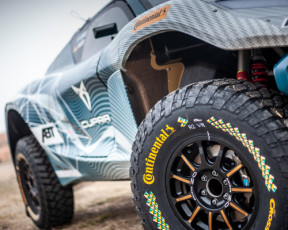 The result is the Continental CrossContact Extreme E. Coming in at 37x12.5R17, it's full of special tricks that make it fit for purpose. The tyre compound itself is all new, the redeveloped tread has a combination of traction ribs and pockets, whilst the casing has been reinforced. There's even a fancy pattern on the sidewall. So far it has proven to be exceptional, standing up under heavy loads at high speeds, whilst gripping in both the wet and dry. So can you get one for your SUV? No, but it's not a million miles away from the CrossContact range so the next best thing is available.
The CrossContact Extreme E does have another special trick up its sleeve we should mention before moving onto the rest of the vehicle. Continental is really a technology company, so these tyres come loaded with special sensors and tech (called ContiConnect) that are linked to a display for the driver. It gives real-time readings of air pressure and tyre temperature, so the driver can adjust accordingly. Pretty fancy aye.
Right then, onto the folk who are building the beasts. Spark Racing Technology has some form when it comes to making race going EVs. They've been building vehicles for the FIA Formula E Championships from day 1 (which was also the brainchild of Alejandro Agag). So they're pretty nifty and know what they're doing. Constructed with a niobium steel alloy tubular frame, crash structure and roll cage, the Odyssey 21 is very much a modern marvel. It looks unlike anything else before it and suited to rugged environments at high speeds. Ok, so it does kind of look like that remote control buggy you wanted as a kid. But that's no bad thing. Imagine being able to supersize some of your favourite toys!
As with all EVs, the battery is pretty important. Enter Williams Advanced Engineering. An off-shoot of the Williams F1 team, they specialise in electrification and battery technologies. For Extreme E, they had the unique task of coming up with a battery to not only power vehicles up steep inclines at great speed, but that could also withstand some of the most challenging temperature extremes faced by a race car. This is no milk float battery we're talking about. With a maximum power output of 470kW, it means they hit about the same power as 630bhp.
Put all this together and you get a beast. Just take a look at these stats!
Max torque 920 nm
Overall length 4.4m
Overall width 2.3m
Overall height 1.846m
Front rear/track 1.998m
Ride Height 0.45m
Wheelbase 3m
Weight 1650 kg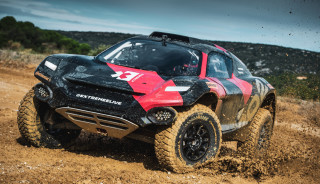 The Races
Extreme E isn't just about bringing about a better balance to the environment. It brings a bit of balance to the gender divide too. Each team has one male and one female driver. Each has to take part in every race. Those races are held over a weekend. It works like this:
Saturday
The first qualifying round takes place in the morning. There's 12 points on offer for whoever comes first. 11 points for second place and so on down to 4 points for the 9th (last placed) team. In the afternoon, they all go again but have to switch drivers.
Sunday
The top 3 teams from Saturday will race in Semi Final 1. The next best 3 from Saturday will duke it out in Semi Final 2.
The final takes the top 2 teams from each Semi Final and pits them against each other. Interestingly, the starting order for the final is decided by the fans using something called the 'Gridplay' voting systems.
After the final race drivers and team are awarded points from 25pts for 1st place, descending down etc. It's all pretty standard stuff and not that exciting. What is exciting are the races themselves. Each driver gets to use a 'hyperdrive' boost once per lap. It provides a quick boost for a limited time. This is not unlike the chevron styled power boosts you get on computer games, from F-Zero to Mario Kart. And that is very exciting. Then there's the locations.
Race 1: Alula, Saudi Arabia. Located on the old incense route, the summer weather peaks out just under 40℃. It was certainly an intense way to kick off a new racing series.
Race 2: La Roc, Senegal. Just 30km from Dakar is La Roc and the west coast of Africa. The course was made up of sand bars, gravel, salt beds, rocks and undulations.
Race 3: Kangerlussuaq, Greenland. Scheduled for late August, the 3rd race will be held near the retreating Russell Glacier. Luckily for the teams, it'll be about 10℃. Not very warm but certainly a lot better than the -10℃ it would be in winter.
There is a race 4 and a race 5. They've just not released details of exactly when and where these races will take place yet.
Alula, Saudi Arabia

Lac Rose, Senegal

Kangerlussuaq, Greenland
The drivers
The initial series sees 9 teams competing. 3 from the UK, 2 each from the USA, Germany and Spain.
ABT Cupra XE (Germany)
Drivers: Jutta Kleinschmidt & Mattias Ekstrom
Take the first female Dakar Rally Champion and an FIA World Rallycross Champion, and you have a formidable team on paper. Yup, this is a team of experience and lots of pedigree.
Acciona Sainz XE (Spain)
Drivers: Laia Sainz & Carlos Sainz
Carlos is one of the greatest rallying drivers of all time. A worthy accolade considering his career includes two World Rally Championships and three Dakar Championships. Laia has just moved from 2 wheel racing, where she clocked up some thirteen World Trial Championships. She's also a veteran of the Dakar Rally, with ten finishes to her name.

Andretti United (USA)
Drivers: Catie Munnings & Timmy Hansen
The drivers in Andretti United might not have the experience of some of the other teams, but no doubt having the legend that is Michael Andretti involved is worth more than a few special insights.
JBXE (UK)
Drivers: Mikaela Ahlin-Kottulinsky & Kevin Hansen
Another team with some amazing pedigree at the helm, in this case the former F1 World Champion, Jenson Button. Over recent years he's caught the off-road bug and even competed in the Baja 1000. Joining Benson for the ride are Mikaela and Kevin, who is the brother of Timmy Hansen from Andretti United.
Roseberg X Racing (Germany)
Drivers: Molly Taylor & Johan Kristoffersson
Another team with a former F1 champion at the helm. Nico Roseberg was no slouch behind the wheel and neither are his handpicked drivers. Molly Taylor is from across the Tasman and has been making her name in Australian Rally Championships for some time. Johan comes from a racing family and is the 3-time World RX Champion.
Segi TV Chip Ganassi Racing (USA)
Drivers: Sara Price & Kyle Leduc
Backed by Indercar supremo Chip Ganassi, this is quite the formidable team. Molly is the 19 time National Dirt Bike Champion who also works as a stunt woman with 2 and 4 wheels for movies. Kyle 'the kid' Leduc has been racing ever since...well, ever since he was a kid. He's been clocking up wins in various championships since then on both 2 and 4 wheels.
Veloce Racing (UK)
Drivers: Jamie Chadwick & Stephane Sarrazin
Described as one of the UK brightest racing talents, Jamie Chadwick was the first ever W Series Champion, a title she will defend when not racing for Veloce. Stephane has raced just about everywhere, from V8 Supercars to F1. The one consistent in his impressive career is an ability to win races or push hard for a podium place.
X44 (UK)
Drivers: Cristina Gutierrez & Sebastian Loeb
Having a seven time F1 Champion backing them is not enough for this team. Nope, it might be Lewis Hamilton's team but we reckon some other chap has the potential to steal the show. Sure, having a seasoned Dakar driver like Cristina driving is good. But...having the most successful rally driver of all-time behind the wheel is worth getting excited about. Sebastian even has PlayStation games named after him. Now that's a success.
XITE Energy Racing (Spain)
Drivers: Christine GZ & Oliver Bennett
On paper, this might be the team with the least impressive CV. Christine and Oliver both have some decent race experience but neither have won anything of note. Not yet, anyway.
The Story so Far

In Saudi Arabia, with sand flying everywhere, there were software failures, crashes and controversy. Pretty much the perfect start to a new racing series then. The clouds of sand being spat out demanded a change to the race approach, with a focus on time trials rather than racing. When the sand settled, the Roseberg X Racing team finished top of the podium.
Race 2 in Senegal was arguably more exciting. There were cars overtaking each other and crashes (always satisfying to watch although you always wish no-one gets hurt). At the end of the weekend, the Roseberg driver pairing of Molly Taylor and Johan Kristoffersson once again proved victorious.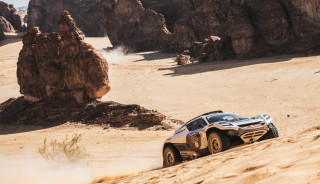 The Future

Next up is Greenland. It's another race to get excited about but also highlights a major problem with Extreme E. The gap between races is huge, 3 months in this case. It has to be that way as the cars are transported by ship. Meaning they're getting from A to B very slowly. It does take some of the momentum away from the series and attention turns to other sports. As a spectacle, it's fascinating but the lack of momentum might yet prove its downfall.
Issues of timing aside, there's no doubting the racing is compelling. The scenery makes for the most spectacular backdrop, albeit the beauty underscoring a serious problem with climate change. The vehicles are mesmerizing to watch as they jump, spin and slide. Yet they remind us of the reasons why EVs are growing in importance. Put these two things together and we arrive at a race series that entertains and educates. You'd imagine that was the goal to start with. In which case, job done so far.
From the experts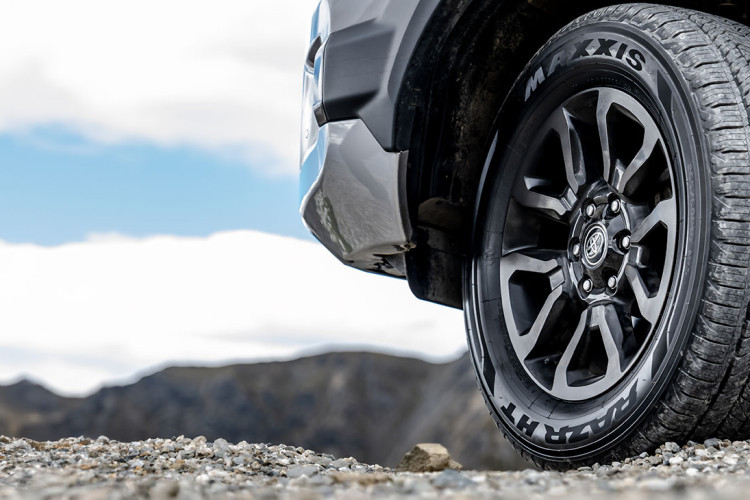 Product Spotlight:
Maxxis HT780 RAZR HT
From the experts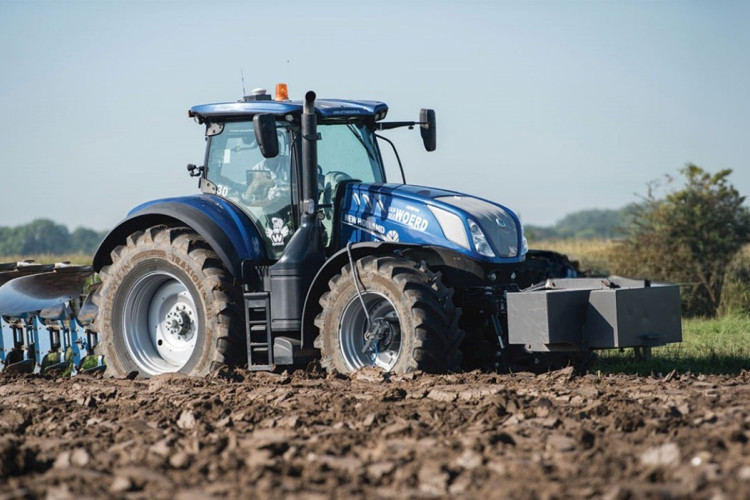 Understand the link between traction and compaction