What to look for when buying ATV tyres
ATVs have been a farming staple for decades and in more recent years they've grown and grown in popularity for recreational use. But when it comes to getting the best value from your purchase and even more importantly operating your ATV safety, there's a few things you need to consider.
First up: Radial or Bias?
Radial tyre technology is relatively new in ATV tyres, but comes with a heap of benefits:
More stable on hillsides: radial tyres keep their flat footprint under lateral forces.
More stable at high speeds: radial tyres keep their footprint wide even at high speeds
Longer tread life: radials don't change their shape under load so there's not so much heat built up under speed and also the weight of the bike tends to be spread much more evenly - both factors mean longer tread life.
Higher load ratings: In general, radial ATV tyres have around twice the load rating of a bias ply tyre and take double the air pressure.
In short, ATVs have changed in more recent years and the new radial tyres are the change that needed to come with it. If you have a large or powerful ATV or you do a lot of work on hillsides, these are a must. And if you're on flat ground and you have a more traditional style ATV, you'll still get longer life from a radial tyre.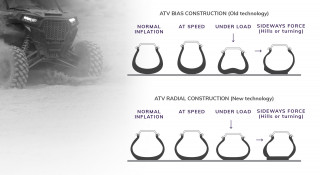 Next: Where it's going:
Mud? You need large voids that open out and allow the mud to clear.
Hard pack? Look for lugs that are close together in the centre of the tyre, so the tyre rolls smoothly rather than bumping from lug to lug. It'll save you fuel and mean a much more comfortable drive.
Rocky ground? You'll need tread lugs that will expel the stones and prevent them from working their way in and puncturing. Make sure you have heavy enough construction to repel punctures also.

Hillsides? You're going to need good grip and a stable broad footprint. Overlapping centre lugs will help to stop sideways slippage. And we can't go past radial construction because it's altogether safer on hillsides as we've covered further up the page.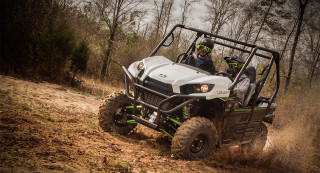 Then: Check that the load rating is suitable.
They vary massively and if you have a newer, heavier bike or if you load up your ATV on the farm, you need to take notice of this. Get tyres not built for the weight and they'll wear out prematurely - which is annoying at the best of times, but can be downright dangerous as well.
And finally: Here's something else you need to know.
We can't help saying this, because you'll only get the benefit of the tyres you've bought if you do this right: find out what inflation pressure the tyre should be run at, and inflate it to that. Don't make assumptions because newer ATV tyres are very different to older style tyres and take very different pressures. Too low and you'll have dangerous amounts of flexing under speed and premature tyre failure. Too high and you'll compromise the grip. The range of recommended pressures in the ATV tyre range varies enormously, so find out what they should be and check them regularly after they're fitted.