What to look for when buying industrial tyres
The hardest working tyres of all are found way off the beaten track – on loaders, graders, dump trucks and a host of other massive machines. And just like the machinery, the tyres are a serious investment – get it wrong and have the tyres fail prematurely and you may have sunk a few thousands. Fortunately, getting the best from commercial or industrial tyres comes primarily down to just a couple of factors:
Get the right tyre for the appliction.
Earthmover, loader, grader? Some times a tyre will be designed for all three but all for different weights and speeds. Make sure you know what your loaded weight will be and how fast you'll be moving and check that the tyre can stand up to it.
Also check the surface it's designed for, remembering that a deeper tread doesn't necessarily mean longer tyre life. Get a very deep tread on a hard surface that it's not designed for, and you may end up with premature cracking. But if you're working on soft surfaces, you'll need the extra grip.

Check out the brand's reputation and calculate the cost of your downtime.
If you're considering a premium industrial tyre, there's a good chance that you could get a more budget-ranged competitor for just half the price. We just have one warning here: Check the brand's reputation and ask for case studies. Then calculate the cost of stopping your operation for half a day if your tyre goes down prematurely, and do the maths. It's usually worthwhile investing in a tyre that's going to go the distance.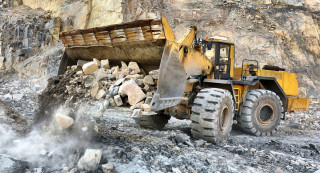 Get the inflation pressures right.
Once you've got the right tyre for the application, it's the most critical aspect to ensuring you get the bang for buck you're looking for. Find out what your inflation pressures should be and check them regularly as part of your machinery maintenance program.