What to look for when buying truck tyres
They do more ks per tyre than any other type and unless you're looking to purchase them, they're largely forgotten by most of the population. But they're a sizeable investment and one you need to get right. Matching the right product to the right application is critical to truck tyre success.
First up - the different types of truck tyres and what to look for in each:
Steer Tyres
They're pretty much as the name suggests. For the front axles that are determining where the truck goes. A high quality tyre will track straighter and give a better steering response, and will keep the cab vibrations down for a more comfortable ride. Also look for good retreadability - tyres that start out their lives as Steer tyres often come back as Drive tyres in the next round.
Drive tyres
These go on the axles that power the truck forward. So it's less about how they feel to steer and more about getting the engine power through to the road. For the best outcomes you need something suited to the surfaces you're driving on… more on that in "applications" below.
Trailer tyres
You get the picture. These are for the axles that aren't connected to either the truck's steering or its drive train. They won't affect the driving or steering in the same way but you still want to look for something that's going to deliver good cost per km, and also handle the surface it's running on. Which brings us to the next section: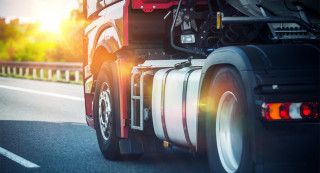 Now - where they're going:
Long Haul
Again, pretty much as it says. If you're hauling stuff up and down the country you need something with good fuel efficiency and long tread life. Tyres designated for "Long Haul" applications do both of those things pretty well.
Regional
These are for trucks that might do a lot of miles but they don't spend all their lives on sealed roads. Think milk tankers for example - they're seeing plenty of highway but they're also repeatedly hauling up long gravel driveways. Tyres designed for "Regional" use are still designed to give good mileage, but they're also optimised for good cut and chip resistance as well. Stone ejectors in the tyre tread are a must for regional applications.
Urban

There are no prizes for guessing where these tyres are designed to operate. What you might be surprised to learn through, is that constant stopping and starting can mean a lot of heat build up which can mean premature tyre wear. "Urban" tyres are designed to handle this - and surprise - often also boost extra thick sidewalls to protect from scuffing when driving up to kerbs.
On/Off Road
Concrete mixers. Dump trucks. Forestry haulers. "On/off road" tyres are designed to handle the highway but also grip well and take the knocks when they're not on the road. So they're optimised for grip both on and off road, as well as durability and cut and tear resistance. Again, you need a tread pattern with stone ejectors to get the debris out before it starts making its way through the tread.