The Crowned King of Tough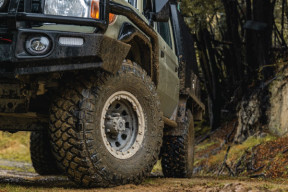 The Royalty of the Oz 4x4 world.
And they rule with a steel fist. Since 2004, King Wheels have been the crowned king of tough in Australian 4x4. They've built their kingdom on a reputation for quality and a level of toughness that's unmatched.
You'll find 4x4's fitted with steelies from King Wheels doing the hard yards in mining operations, in the middle of the outback, or used by serious off-roaders who aren't afraid to push their vehicles to the limit. Backed by a lifetime structural warranty, KIng Wheels are made to be used.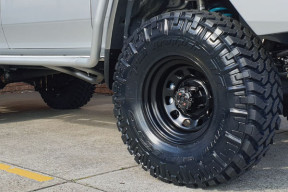 Fitted With Strength
King Wheels use CBL Technology for the perfect installation. By boring locating rings for a precision fit between the wheel and vehicle hub, installing the wheel and tyre combination perfectly is easy. This snug fit reduces vibration and helps prevent taper elongation.
Made to the highest standards, these steelies are revered for their strength and regularly outperform the competition in radial and corner fatigue testing. Capable of high load ratings, King Wheels are made to work, whether that be actual work or the fun kind, out and about in the backcountry, where you need wheels you can rely on.
A Warranty Forged in Steel.
All Kings Wheels come with a lifetime structural warranty. The high quality steel wheels with the faultless powder coat finish are supported with a guarantee that back up the tough talk from the Aussie Kings of Tough.
The warranty is just one of the reasons why King Wheels have a reputation that's as solid as their steelies. No-one wants to rely on warranties though and it's there because you won't have to. These wheels are made to be used and come with a reputation that supports what everyone says - they're tough.
D-Hole

The classic steelie stalwart. This is toughness powder coated, not sugar coated.

D-Locker

A beadlock look steelie that's as tough as it appears.

Lifetime Structural Warranty

King Wheels are made to be used, so they back them up.
They Look Tough Too.
Finished in an irresistible satin black powder coating, the D-Hole and D-Locker wheels bring the X-Factor to 4x4's in the looks department. They add a visual flex that tells everyone your 4x4 is tougher than most and you use it.
The beadlock look of the D Locker gives the appearance of a steelie on steroids, without the hassle of actually beadlocking. You get a road-legal wheel that looks like it should be outlawed. Now that's a tough act to pull off and Kings are the best at it.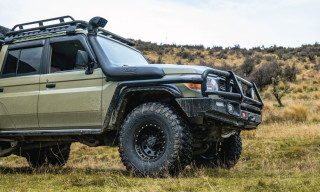 These wheels are made to be used. That's why King Wheels back up the talk with a lifetime structural warranty.