Tyre dealers we recommend in Auckland
Roads-wise Auckland has it all: the only toll road in the country, packed city streets, a motorway system that works brilliantly off-peak, quiet suburban avenues, narrow back roads, and even a taste of Northland-style winding highway, courtesy of the Dome Valley.
Auckland's climate offers a heap of variety and consequently some fantastic opportunities to test the wet-braking capability of your tyres. You want to be careful with that though; not enough tread and you could just be paying a visit to your panel beater sooner than you would have liked. And if it's time to be considering a new set or just checking on their condition, we've curated a great list of Auckland tyre dealers here:
Driving around Auckland
Auckland

can get congested. Particularly: Citybound on the Northern Motorway between Oteha Valley Road and Esmonde Road; westbound on State Highway 18 through Greenhithe; Citybound on the northwest motorway from Westgate to Western Springs and on the 'inner' Southern Motorway.

One of the

busiest intersections

is where

Te Irirangi Drive, Ti Rakau Drive and Botany Rd converge. 30 lanes collide, bringing up to 5500 vehicles together every hour during peak time traffic.

Auckland's sub-tropical climate means the city can be subject to sudden deluges, reducing visibility to a few metres and slowing motorway traffic to a crawl. Be prepared and check those tyre treads will be up to the game when water is hosing across the motorway.

A

report

from Uber suggests Auckland has the worst rush hour traffic in Australasia, with travel taking up to 48% longer than it does at other times. If you get the option, head out after 9 am and before 3. Or, better still, carpool and travel into the T2 and T3 lanes that are in many of the most congested streets.

More than 40% of Auckland's roads are predicted to be severely congested by 2049.
The good stuff
There are those who like great coffee and those who like great quantities of coffee. You can get both at the

Bestie Cafe

with their infinite refills option. It's filter coffee but it's great filter coffee. The view is pretty good too.

If you're a burger geek then there's a place just for you. It's called

Burger Geek

and they mix Angus and Wagyu for a slice of burger perfection. You will not be disappointed.

Perched high up on the 53rd level of the Sky Tower, is the 1930's inspired

The Sugar Club

. For a (small) feast of fine food and some classic cocktails, served with an outlook over the City, it's easy to see why The Sugar Club is a sweet choice.
The Sugar Club

Bestie Cafe

Burger Geek
Road Trips from Auckland  
Rotorua

. It's a bit of a slog at around 3 hours each way...but there's adventure to be had when you get there. A tourism mecca for a reason, the good news is the queues are a little shorter for the Luge these days.

Raglan.

If you like to strap a surfboard to the top of the station wagon, then in around 2 hours you'll find a pretty good

surf spot

. And if you don't have a surfboard, it's a decent place to kick back and watch those that do.

Matapouri.

In 2 hours and 45 minutes you can make it to one of the most instagrammed

locations

in New Zealand. It's easy to see why too, with the white sand beach and mermaid pools with crystal clear water.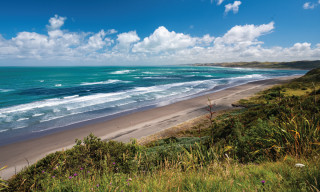 Distance & Driving Times from Auckland
To Wellington. 642km. 8 hours 16 minutes.

To Hamilton. 121km. 1 hour 23 minutes.

To Rotorua. 227km. 2 hours 56 minutes.

To New Plymouth. 358km. 4 hours 43 minutes.

To Palmerston North. 513km. 6 hours 14 minutes.