Probably the coolest capital city in the world. Wellington is politics and punk. Craft beer and next-level coffee. Big shops and independent art. The kind of city that surprises you, where every weekend leads to new discoveries and new friends. It's just cool like that.
Wellington is also the Public Transport Capital of New Zealand, boasting around 40 million public transport trips a year. However, a quick peek at the Victoria Tunnel at 8 am suggests that more than a few Wellingtonians still find cars are a handy way to get up and down those hills. For those times when your tread gets a bit low, we've curated a great list of Wellington tyre dealers here:
Tyre dealers we recommend in Wellington
Gazley Motors Cambridge Ltd | Wellington

Motor Doctors Ltd (Ngaio)

North City Service & Tyre Centre

Plimmerton Auto Services Ltd

16 – 20 Geange Street , Upper Hutt 5018

Waiwhetu Auto Services Ltd
Driving Around Wellington
The main roads in and out of

Wellington

can get very busy. From the north, State Highway 1, Hutt Road/Thorndon Quay and the Aotea Quay/Waterfront Route move the bulk of the traffic. From the Eastern & Southern suburbs, the main routes are either the Victoria Road Tunnel or the more scenic option around Oriental Parade.

All of these routes see traffic start to build up at 6.30 am, with slow-moving traffic likely until 10 am. Traffic will build up again from 4 pm until around 6.30 pm.

State Highway 58, north of Wellington, has the reputation as the most dangerous road in the area and one of the worst in NZ.
Wellington has some 3300 on-street parking spaces available for an hourly rate. There's also a good range of private car parks available, meaning you should be able to get reasonably close to your destination.
The good stuff
There's no shortage of great places for caffeine fixes in the Capitol. One of the most interesting, elevating your morning cuppa to an art form, is the Lamason Brew Bar. Order a siphon coffee and you'll get an experience. And great coffee.

Mix a Burger with a bar...and you get a Burger Bar. More specifically, you get

Burger Liquor

. It's a place for great burgers and a drink. You'll want to leave the car behind mind, as you might get a little tempted by their excellent hard shakes.

Fancy something a little fancier? There are too many culinary wonders in Wellington to just pick one so we'll defer to

this list

of the top 10 from Trip Advisor. Mind you, we'd likely head to

Logan Brown

. After all, they did drive a sweet old ride in that TV series a few years back.
Lamason Brew Bar

Burger Liquor

Logan Brown
Road trips from Wellington
Martinborough

. A little over 60 minutes from Wellington and you'll be delivered into the centre of Pinot Noir country. The pioneers are the folk at

Ata Rang

i Winery and their Cellar Door is in high demand, so you'll need to book ahead if you want to treat yourself.

Paekakariki.

The easy part is getting to the small coastal town just 45 mins away. The tougher mission (although it's not too tough) is the 10km long

Paekakariki Escarpment Track

. There's some great views on offer but you'll need half a day. So take snacks.

Putangirua Pinnacles.

For LOTR fans, it's probably better known as the 'Paths of the Dead'. It's pretty easy to see why it was considered a suitable location too. The badlands erosion has left some spectacular rock structures which take on another world look and feel. You can reach the

Pinnacles Track

in a little under 2 hours drive.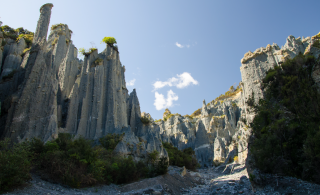 Distance & Driving Times from Wellington
To Auckland. 642km. 8 hours 16 minutes.

To Hamilton. 522km. 6 hours 44 minutes.

To Rotorua. 450km. 5 hours 48 minutes.

To New Plymouth. 353km. 4 hours 52 minutes.

To Palmerston North. 142km. 2 hours 2 minutes.