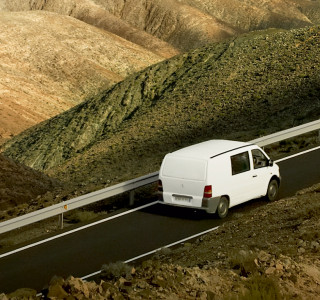 Your Guide to Van Tyres
They move through the day and night. They transport everything and anything, the contents destined to keep people fed, clothed and entertained. They link online stores to our postboxes and businesses to other businesses. We give you the humble van, the metal workhorse of the automotive world.
Some Special Challenges
The humble van does not come with humble demands. Which is understandable considering what they are asked to do.
For starters, those loads they take in the back might not be secured or well-balanced. The shifting of weight has a huge effect on handling and can make some serious demands on the tyres as you take the bends. That high centre of gravity can be a real challenge too.
The humble van does not come with humble demands.
All the weight (balanced or not) will make itself known when it comes to stopping and starting. And vans do a lot of that as they scurry from place to place. The demands on van tyres are both unique and constant...and they are applied over smooth roads, gravel roads and through all types of weather. Being a van tyre is not an easy job.

What's that Van For?
What can't they be used for might be an easier question to answer. Sure, there's the delivery van, transporting goods from A to B. But that's just the start. There's also the coffee van or mobile food van, specially adapted and conveniently parked somewhere you might need it. Everyone will recall the melodic sounds of an ice-cream van. But there's also the campervan, ferrying travellers from adventure to adventure. Then there's the mobile carpet showroom. The mobile studio-in-a-van. The speed camera van...and the Police van. One van, so many possible uses.
Van Evolution
No longer are vans the basic workhorses of yesteryear that would slow to a crawl when going uphill, or start swaying should a passerby sneeze. Today's vans are quick, powerful and full of the advances you'd expect (and want) to make them safer. A modern Mercedes Sprinter van comes to you with lane assist, forward collision alerts, stability control, blind-spot detection and much more. You can also choose from one of over 1000 different configurations to build the workhorse you need. There's even a voice assistant. Everyone say 'Hey, Mercedes'.
There remains a common element to all vans though. They all still need tyres to have any contact with the road. Which makes the choice of tyre pretty important then.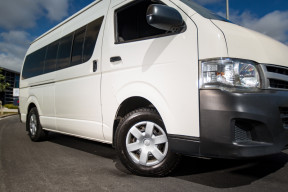 Vans in New Zealand
You'd probably guess this...the Toyota Hiace is our favourite van. They seemingly go on forever and have a reputation for being about as reliable as you can get. In 2019 we bought 2,231 of them.
The next popular vans for 2019 new vehicle sales in NZ were the Ford Transit (1394), Mercedes Sprinter (854) and the Fiat Ducato (490).
Some Cool Vans
Workhorses can be cool too. Really, they can.
Ford Transit
Seriously, the Ford Transit is cool. This is a van that has been adapted to do pretty much anything. According to a Scotland Yard in the 1970's, they were used in 95% of bank raids and were the ultimate get away vehicle. The 240km/h Ford Transit Supervan would certainly have taken some catching.
Nissan S Cargo
It stands for 'Small Cargo' and is a clever play on words, sounding like the French word for snail, Escargot, to match its looks. Less cool is being stuck behind one as its snail like characteristics aren't limited to looks alone.
Brubaker Box
Taking one of the best selling cars of all time (VW Beetle) and asking folk to pay for a new one, then disregard the body to replace with a fiberglass van body which is then bolted to the chassis, didn't make financial sense for most people. This company may have failed but imagine turning up at the 4 Square in one. What a head turner.
Austin Mini Van
Why not take the world's most loved small car and make it into a van? A small van that is. No issues with a high centre of gravity here and despite being extremely impractical for commercial purposes, they do look very cool.
Volkswagen Type 2
Probably the best 'van' of all time? In the 1960's they did produce a few panel van versions but what we all know and love is the combi. No other vehicle shouts 'freedom' as loud or makes you want to grow your hair and start wearing tie-dyed t-shirts as much.
What to Look for in a Van Tyre
With so much being asked of van tyres...you need to ask a few questions before you make a choice.
They need to be able to take the weight. The load capacity needs to be up to the job and take its share of the total laden weight of the van.
Handling and braking under load is very different to handling and braking in an empty van. The tyres need to be good at both.
The constant stopping and starting when laden can wear tyres down pretty quick. Invest in quality tyres that last. They'll quickly pay for themselves. What's more, that premium rubber compound will grip the road better so there's some safety benefits too.
Van tyres with a low rolling resistance can help save on fuel. For these workhorses that are constantly on the go, an advanced tyre like the Continental VanContact 100 can offer real savings.