Back in the paddock... and on track
Most people know Continental for their ultra high performance tyres, usually seen on the wheels of car brands like Mercedes and BMW. Some will know they also make some pretty advanced and fancy systems for cars, like ABS braking systems, which was actually a Continental innovation. But did you know they also make agricultural tyres? That is, they're making them again themselves. Let's hop into the nearest paddock and take a look.
Continental on the Farm.
The small town of Otrokovice in the Czech Republic is about 3 hours by fast train from Prague. Less than 20,000 people live there and the town has pretty much everything it needs. From 1928 until 2004 it was also the home to agricultural tyre manufacturing for Continental.
Quite why the location was chosen is beyond our knowledge. But chosen it was and, in 1932, Continental made their first breakthrough with the development of the catchily-named T3 AS (it had decent grip apparently). The equally catchy (and somewhat predictably named) T4 AS followed in 1938. Now this was a real 'paddock changer'. It featured tread blocks which were no longer interlinked. Traction was dramatically improved yet again.
The improvements kept on coming. As did the naming convention. By the 1950's we're on the T9 and T10. It's all about the (longitudinal) ribs and steering control. Yet it wasn't until 1951 that Continental felt they had fully established themselves in the world of Agricultural tyres.
The hits kept on coming for Continental. So when they solidified their position through the remainder of the 50's and the 60's it was no surprise.
Skipping to the 1990's and the tyres go global. North America is onside and everything is humming along nicely. So when 2004 arrives, it's probably a surprise to some (no doubt the people of Otrokovice in particular) when Continental announces they've sold the Agricultural Tyre division along with the rights to produce Continental-branded farm tyres, to another company which is completely independent of Continental.
In the years that followed, farm tyres with the Continental brand on them continued to be produced, but without any of Continental's field-leading input into their design or manufacture. Sadly for users of Continental farm tyres produced between 2004 and 2017, the tyres are Continental in name only. It's a big call to let someone else to use your brand and hope they uphold your reputation, so we're not completely surprised by what happened next.
A New Era
It's 13 years later. Continental decides to wade back into the mud again. No longer would Continental Agricultural tyres be made under license. They'll be making them for themselves once more. Sadly, for the people of Otrokovice, production was shifted to Lousado, Portugal. The Czech Republic's loss is our gain. For Lousado is a new state-of-the-art production facility, boasting the latest machinery and automated devices. It's also home to a cutting edge Research and Development facility. Continental has invested over 100 million Euro to be able to research and then manufacture the very best in big rubber.
But why the return to agricultural tyres in 2017? Enter Continental's Nikolai Setzer who explains; "Over the past few years, we have been able to successfully expand the specialty tyre business with the launch of port and earthmoving tyres. The agricultural tyre portfolio completes the product range for off-road use" said the man himself at the time. Sounds reasonable enough too.
We'll be honest, we're just glad Continental has made a comeback. Because they've thrown their Research and Development might behind it and over the last couple of years the tyres they've been pumping out have been impressive. Why? Well, there's some innovation going on here...
Areas of Innovation
The first tyres off the new production line were called? Tractor 70 and Tractor 85. Or T70 and T85. But if there's no innovating when it comes to the names… just where does it show?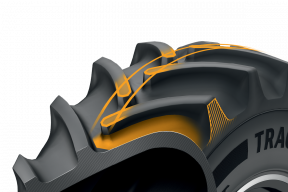 d.fine Technology
It shows in the lugs. Because they are fine. More precisely, they are d fine. Looking at agricultural tyres you'd be forgiven for thinking they all pretty much look the same. Whilst you might not see the differences, you'll certainly both notice and feel them. An increase in the lug surface area of 5% (when compared to standard tyres) means you get better traction in the mud and better mileage on the road. Not only that, the lugs overlap. The resulting lack of large lug gaps increases ride comfort through the reduction of vibration. Even the smoothness of the transition between lug block and the base has been cleverly defined (or should that be d-fined). This aids self-cleaning properties whilst increasing stress and damage resistance. They're also rather sturdy, keeping the ride stable and secure.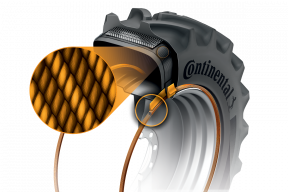 N Flex Technology
Flat spots on agricultural tyres are a pain in the 'driver's seat'. Those bumpy rides first thing in the morning are not enjoyable. So what Continental has done is to develop a carcass using special (patent pending) material. This material allows the tyre to flex and absorb the impact of riding over undulating, rough and rugged ground. There might not be anything too innovative in that (although the level of flexing possible is something to behold) but the ability of the tyre to return to its original shape is outstanding. It simply rolls with the punches from the rough ground, taking everything thrown at it before issuing a defiant 'didn't hurt a bit' and acting as if nothing happened. If you want to get technical about it, it's the elongation capability of the nylon in the tyre that provides high impact resistance.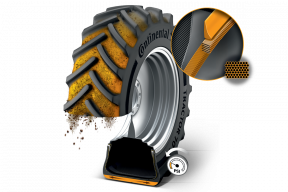 Bead Technology
The shape of the bead is of paramount importance here. For tractor tyres, Continental uses a single piece bead of a rectangular design. This little beauty of a bead brings a high deflection performance from the sidewall. It's robust and enduring.

The tyres for a combine harvester get a different shape. Their bead is hexagonal. This reduces any slippage and ensures high torque from rim to tyre.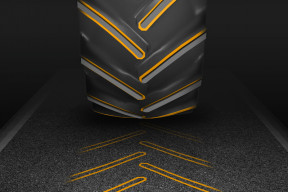 Squashing compaction problems
Soil compaction is a costly problem. We couldn't find any figures for NZ but over in Great Britain, it's a NZ$735 million problem annually. This is where the boffins at Continental come into their own. The bead technology (and in the case of T70, a wider footprint and lower operating pressures) means the tyres heavy in technology tread lightly on the soil. The result is a reduction in soil compaction and its associated ills.
John Deere Chooses Continental
In a vote of confidence from the world's leading manufacturer of tractors, John Deere, Continental Tractor70 and Tractor85 tyres will be on new 6MC, 6RC, 6M and 6R mid-sized tractors. This follows two comprehensive audits of Continental's Portugal plant. John Deere conducted the audits during winter 2018, spending several days conducting highly detailed and exhaustive tests. In particular, they were looking very closely at quality control. They must have liked what they saw, awarding Continental with excellent results and following up with the agreement for tyres. It was an important step in the return of Continental and a huge signal to the market that Continental are back at doing what they do best, making great tyres that perform.
A Final Word from the Paddock
The refocus of Agricultural tyres from Continental is most welcome. They've done what you would expect from the world's leading tyre manufacturer, which is to do the hard work in the R&D fields before putting the tyres out there in the farmers field. Their typically patient and exhaustive approach to development means the end result is a more advanced tyre with real-world benefits over competing bits of rubber. So, a big welcome back hug to Continental. It's nice to see you in the paddock once more.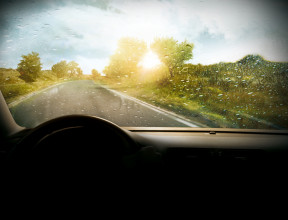 Explore the Range
Whether it's tyres for your tractor or your SUV, Continental probably has an option.
Find Tyres
From the experts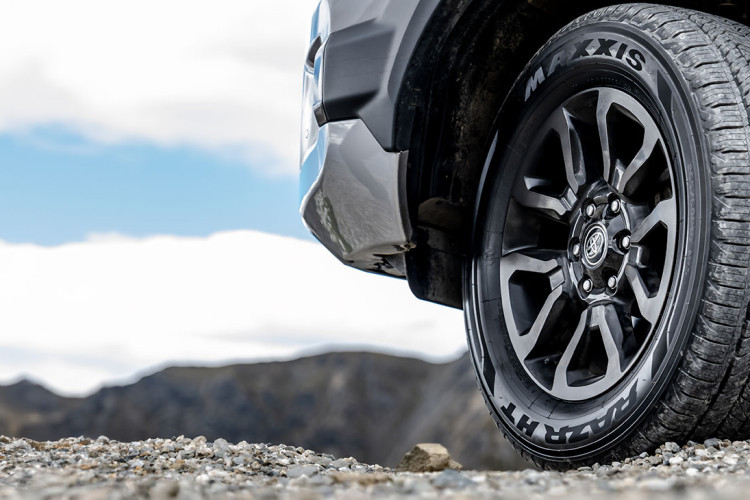 Product Spotlight:
Maxxis HT780 RAZR HT
From the experts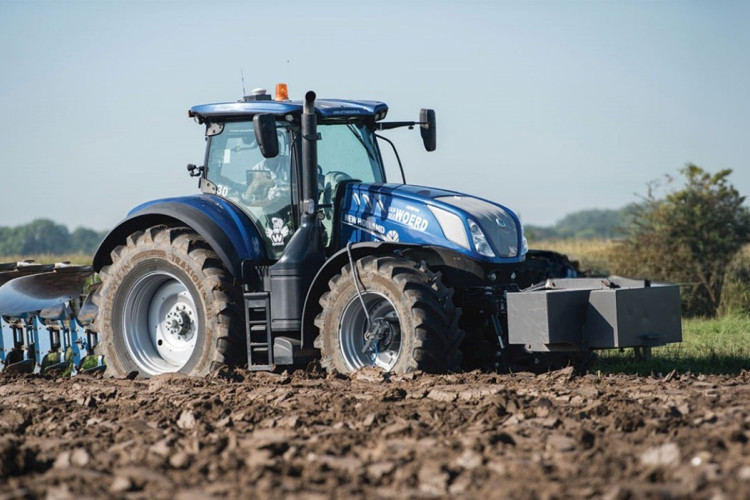 Understand the link between traction and compaction