Behind the rubber: Company spotlight on Continental Tyres
Get a few people together and bring up Porsche. What will likely follow is a debate as to which model 911 looks the best and whether the Panamera is a real Porsche or not (spoiler alert - it's not). You could just as easily mention Mercedes. No doubt talk will turn to the Gullwing (it should, for it has to be one of the most beautiful cars ever made). The point is, most can talk a little about the history of these great companies and will know a bit about them.
Turn the talk to tyres and it'll be a different matter. It's highly likely most folk won't even know where Continental Tyres comes from, let alone anything about their history. Which is why we're bothering to write this. For their story and history deserves a few words.

The Early Years
1800's
Hanover was quite the place in the 1800's. Connected to the rest of Germany already by train, it had become an important trading post and industrial hub. Yes Sir, life was bustling in Hanover. Not a bad place to start a new enterprise then. Thus, on the 8th October 1871, the Continental Caoutchouc & Gutta-Percha Company was formed. This is some 15 years before the first car. So they didn't start by making car tyres then.
Nope. The early years were all about rubber for raincoats, hot water bottles...and solid tyres for bicycles and carriages. We should note at this juncture (and store this one away for random pub quiz trivia) that the rampant horse design as featured in the Continental logo (yes - it reminds us a bit of Ferrari too) is based on the Coat of Arms for Hanover. It was first used in 1875 and became the official trademark of Continental in 1885. For a bonus point, you can tell people it symbolises 'strength, agility and endurance'.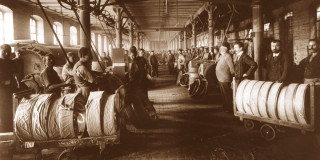 1900 - 1920
Now, it's ok if you do forget about the rampant Horse. This one's a bit more important. It was Continental that introduced tyre tread to tyres. This has to be one of the major milestones in the history of tyres. Indeed, we're not sure you'd get to many milestones without tyre tread. At least not as safely anyways. For this essential little addition to tyre design is what clears the water away from tyres and the road.
The advancements kept on coming for Continental, a company which was soon making a name for itself as an innovator in the fledgling automobile industry. In 1908 they invented the detachable wheel trim. A big time saver in the days before the Automobile Association implemented roadside assistance. Mainly because it was too busy helping members avoid the police and speed traps (we kid you not).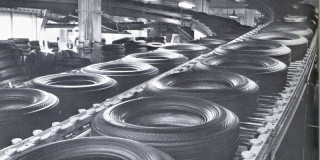 1921 - 1960
Moving along to 1921 and Continental developed the first giant pneumatic tyres for commercial vehicles. Very handy we imagine as it is the roaring 20's and all that gin needs quick and effective transportation during the time of Prohibition in the States. You imagine pneumatic tyres would help keep the precious cargo in good condition and they saved more than the odd bottle from breaking. Not that was why they were invented of course.
Fast cars were becoming a thing though, especially for Continental. In the run up to the Second World War, their tyres were being used on Mercedes and Audi racing cars with great success. Managing to notch up 4 German Grand Prix victories, 4 wins in the North Africa Tripoli race and a smattering of speed records, Continental was gathering pace as quickly as the cars they were fitted on.
In 1943, Continental was awarded a patent for the tubeless car tyre. Another significant milestone, not just in the history of the company but of tyre development itself. Indeed, by now Continental was firmly established as one of the leading tyre manufacturers. Which is probably why in the 1950's the likes of Stirling Moss were flying around racing tracks and clocking up Grand Prix victories on high speed tyres from the team in Hanover.
Here's another of the pub quiz snippets of knowledge for you...the reason you see an 'R' on tyres (designating it as a radial tyre) is down to Continental. They introduced it back in 1960, which was then they started to mass produce radial tyres for the first time.
1961 - 2000
The next major milestone was done in private. In 1967, the Contidrom was opened. A testing facility par excellence, that was to become stuff of legend. As early as 1968, a driverless car was developed by Continental for testing on it. The facility has been expanded and updated over the years but it has always been central to everything Continental does, continuing to play a significant part in the 67,000 tests drivers perform on new tyres before they go into production. Indeed, when a new Continental product is released its estimated to have been tested so much it's already clocked up the equivalent of 500 laps of the world.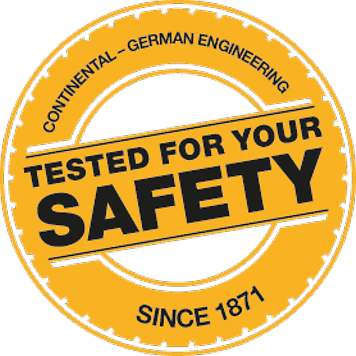 2000 - Now
A lot happens over the next few years. Too much for the scope of this blog. One thing we should highlight before moving on is this: in 2012 Continental was the first automotive supplier to be granted an autonomous vehicle testing license in the state of Nevada. In the rapidly changing world we find ourselves in, nothing can better illustrate where Continental is, which is out front, innovating and leading the charge to tomorrow.
Continental Today
Well...they've done alright have they? The little firm from Hanover has come good over the years. Take a look at the 2018 Financial Results and you can imagine you'd probably be happy with employees totalling over 243,000 and some NZ$76 billion plus in revenue. Here's the fascinating part of that… only 25% or so of the income is from tyres. You might not know it but Continental is involved in just about every part of auto supply. Indeed, they even invented a few systems that now come as standard. Meaning even if you don't drive on Continental tyres, chances are your vehicle has something from them in it. If your vehicle has ABS, you can definitely thank Continental. They invented it.
The Automotive side of things accounts for over half of total revenue (NZ$46.1 Billion) and is split into 3 divisions; Chassis & Safety (NZ$16.46 Billion), Powertrain (NZ$13.2 Billion) and Interior (NZ$16.44 Billion). The rest of revenue is to be found from the Rubber group. That's NZ$19.55 Billion in tyre sales and the rest from ContiTech (Air Spring Systems etc).
We're not overly fussed about those numbers, as impressive as they are. We think the more important numbers are those like 'distance to come to a complete stop in the wet'. It's those numbers which have real value. These are the numbers that can save lives and it's why both manufacturers and the experts choose Continental.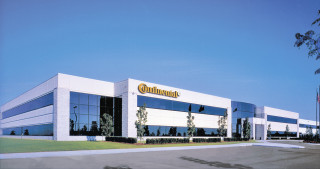 The Manufacturers Brand of Choice
Brooklands race track in England was the first purpose built 'banked' track in the world. Since opening in 1907, it has played an important role in both motor racing and aviation (being one of Britain's first airfields). Nowadays, it's home to Mercedes Benz World. The high-tech driving experience from the prestige manufacturer offers a range of driving experiences to excited guests. All of the vehicles used have Continental tyres on them.
This is not unusual. Nearly all leading car manufacturers have models which roll off the production line with Continental tyres on them. In fact, nearly 1 in 3 new vehicles in Europe have Continental tyres fitted. Why? Over 100 tests and up to 4 years of Continental working side by side with the manufacturer to develop a tyre that perfectly compliments the characteristics of the new model is reason enough. It's not a new thing either. Over the years some of the most iconic vehicles had Continental OE tyres…
1901 - Mercedes 35 PS. Widely regarded as the first modern car.
1950 - Volkswagen T1. The legendary Kombi.
1955 - Volkswagen Beetle. The best looking Beetle.
1964 - Porsche 911. No introductions needed, it's the original 911.
1968 - Opel GT. The coolest headlights on any car. Ever.
1974 - BMW 2002. BMW's first supercharged production car.
1974 - Volkswagen Golf Mk 1. The original hot hatch.
1975 - Opel Manta. A rear wheel drive wonder, built to take on the Ford Capri.
1980 - Audi Quattro. The original all-wheel drive rallying superstar.
1983 - Audi 80. Iconic German sedan.
1986 - Land Rover D90. The best Defender?
2001 - BMW Mini. The comeback of the classic small car.
2002 - Porsche Cayenne. The first real luxury (and fast) SUV.
2005 - Porsche 9FF. The fastest street legal car in the world. 388km/h.
2010 - Mercedes SLS. Circa $1/2million supercar with ridiculous power.
2011 - Renault Twizy. It's weird. But has good tyres.
2012 - Tesla Model S. The groundbreaking electric sedan.
2013 - Maserati Quattroporte. A real high street headturner.
2013 - Jaguar F Type. For every James Bond type.
2017 - Honda Civic Type R. So, so quick.
2017 - Rolls Royce Phantom. The pinnacle of luxury cars.
2020 - Volkswagen ID3. VW's first purpose built all-electric vehicle.
The Experts Brand of Choice
When it comes to independent tyre tests, we know of no other brand of tyre as successful as Continental. From 2007 to 2018, their tyres were involved in a staggering 653 tests. That's more than one test per week for 11 years. In 511 of these tests, Continental received the highest rating possible. That's the highest rating in 78% of all tests entered. An unmatched show of support from independent experts, we reckon it makes Continental the most recommended tyre company out there.
Of course, the most important tyre reviews are the ones we do. They did pretty well in that too.
Continental Tomorrow & Vision Zero
We know the history. We know the now. What about the tomorrow? Well...no-one knows what's going to happen in the future. If we did, we'd certainly be playing the stock market and cut back on the blogging a bit. Continental knows where they want to go though. They've had a vision...and it's a pretty decent one.
They're working towards zero. That's zero fatalities, zero injuries, zero crashes. Sounds like driving utopia right? Well, it's worth striving towards. There are far too many vehicle related accidents, injuries and deaths. We applaud the vision Continental has and hope it comes to pass.
We also know Continental continues to commit a significant spend for R&D. Automated driving, electric mobility, connectivity and digitization are seen as core areas for continued development. A team of some 1,400 employees are committed to innovation in what must be one of the largest R&D commitments in the industry, if not the largest. Which means we should expect good things to come from Continental over the next few years. Their history would certainly say they're capable of delivering something special.
From the experts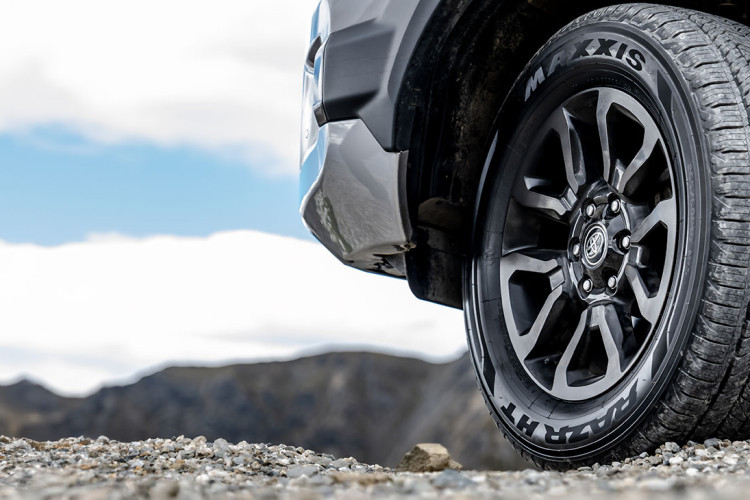 Product Spotlight:
Maxxis HT780 RAZR HT
From the experts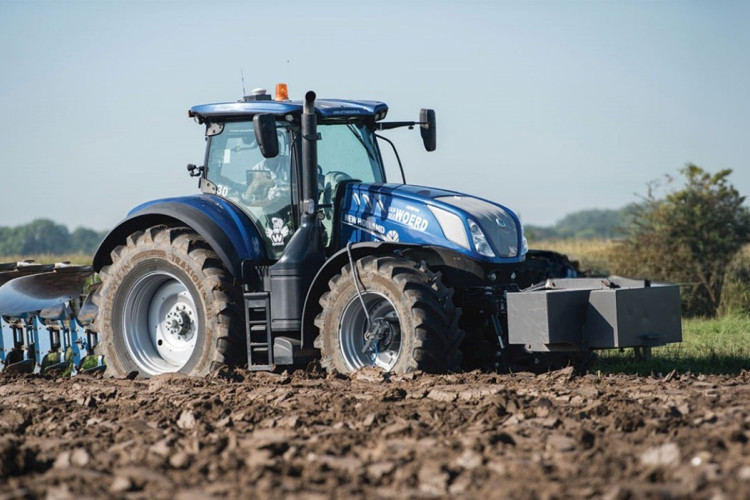 Understand the link between traction and compaction