Product Spotlight

The Vredestein Traxion Optimall

Out on the farm, things are changing. Technology is playing a more important role than ever. We have smart collars for cows, robots to milk them and drones to help herd them. But in pretty much every farm shed, you'll still find that trusty stalwart of the land. A farmer's friend and a wonder of design since Froelich's steam powered thresher in 1892. As technology advances in more attention grabbing areas, tractor technology has not stood still. That includes the big bits of rubber they use too. Which leads us nicely to what we want to talk about. Which is the Vredestein Traxion Optimall tyre.
A bit about Vredestein
We're not going to go into all the history of Vredestein. That would take too long as there's over 100 years of it to note. That said, their history is quite notable. Starting in 1908 in the Netherlands, they've been into rubber in a big way. They started with bicycle tyres, a category they're still active in. Indeed, they can point to Olympic Gold Medals, Tour De France stages and the Mountain Biking World Championship… all being won by cyclists using Vredestein tyres.
Vredestein have over 100 years experience in car tyres too. They do a particularly nice line in winter tyres, the Wintrac Xtreme S being rated for speeds up to 300km/h. Can you imagine doing that speed in winter conditions? We'd rather not.
As for agricultural tyres, they got into this relatively recently. Well, if you consider 1997 recent anyway. They did it right too and have gone on to establish an enviable reputation, particularly here in New Zealand. Why? We think there's 5 key reasons:
They provide a smooth ride, protecting you and your body.
You get superior traction, particularly in some of NZ's muddy conditions. This helps lower fuel costs and get the job done quicker.
A wider footprint leaves less problem with soil compaction.
They improve operating efficiencies. When the squeeze is on they provide those extra savings that can make all the difference.
And a big one...they last. Proven length of service in New Zealand is simply outstanding.
Introducing the Optimall
Vredestein tractor tyres have been working up a reputation in NZ for about the last 15 years. There's a lot of things that make them good but their key differences seem to boil down to their 'Traxion' tread design. The Traxion concept incorporates two zones. The first, the central 'comfort zone' which gives them a smooth overlapping lug print on hard surfaces, which means a much less lumpy rid - easier on the driver and easier on the machinery, not to mention on the tyres themselves, which tend to last pretty well even when run on hard surfaces.
The second zone of note in the Traxion design is the 'traction zone' which also does pretty much as the name suggests. The lug curves through the traction zone at a variety of angles which means something ideal for pretty much any condition. We could get fairly technical here but we'll cut to the chase and say that for anyone doing work in mud, Vredestein tyres tend to grip better than their counterparts. For some users this simply means going more places where other tractors can't. But do the maths and you'll also find that better grip and less slippage also means finishing jobs faster and using less fuel to do so. After all, the fuel that makes your tractor tyres spin costs the same as the fuel that makes your tractor move forward - it's just that one of those two gets you somewhere. Count in a bit less soil disturbance as well.
That's the Vredestein 'Traxion' concept in a nutshell. Now for how the Optimall is quite a new departure...
IF and VF farm tyres
Tractor tyre technology has been marching along and it's time to introduce the two newest players on the scene - IF and VF tyres.
IF and VF tyres have some great, arguably underappreciated, advantages when compared to regular radial tyres. Namely, increased productivity and efficiency. They also reduce soil compaction, lower fuel consumption and have a lower cost of ownership.
IF stands for Increased Flexion. Basically, they are called this because of structural and compound changes which allow their sidewalls to operate whilst flexing more significantly. The result is an improvement of tyre performance by 20%. The loads carried can be up to 20% heavier, or you can reduce the tyre pressure by 20% and still carry the same loads as regular tyres.
VF stands for Very Increased Flexion (or Very High Flexion). With VF tyres, you get double the gains. That's better tyre performance by 40%, the ability to carry loads up to 40% heavier, or the same loads at 40% less tyre pressure.
Why VF? Because new tractors are getting bigger and bigger. Which means heavier and heavier. All that weight puts pressure on the soil underneath it. So you need a tyre that can run at a lower pressure and still stand up the weight it needs to carry. That way you take a lot of pressure off the soil, and avoid a a lot of soil and plant damage.
The Optimall is a VF tyre, designed for the newer, heavier tractors of today. We're told that they're very good. But nothing critiques for performance like independent testers. And so...
Introducing DLG
Enter the wonderfully proficient people at DLG. You may have seen some quality labels or seals with the DLG logo on agricultural machinery and equipment. If you have then you know whatever you are looking at has been tested and approved as one of the best. For DLG, or to give it its full name - DLG Test Centre Technology and Farm Inputs - is the place for testing. If their engineers, say 'it's good' (or more likely 'Ist gut'... they are located just outside Frankfurt, Germany after all).
The tests themselves are very comprehensive and detailed. They focus on usability testing, focusing in on fatigue strength, performance and quality of work. Once testing is completed, they produce a comprehensive test report. Given the standard of the testing at DLG and their reputation, a positive report is seen as a significant marker of excellence. It means the product is not only good but notably so.
The Tyre Test
Right. Now let's get down to business and look at the tyre itself. For testing, a 650/65R34 was stuck in the front, with 710/75R42 on the rear. They were mounted to a Claas Axion C-Matic with continuously variable transmission. A load was simulated by means of a Claas Axion 4000, which was used as a braking tractor. The soil base for testing had an average 21% moisture content at 10cm.
As with all testing, it's good to note performance against the competition so you can get a real world comparison. So, a premium IF and a premium VF tyre was selected to really see how the Vredestein Traxion Optimall measured up.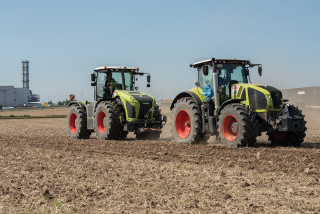 Fuel Consumption
The first sub-test looked at specific fuel consumption. Measurements were taken with an approximate constant traction of 70kN. Improved efficiency against the competing premium IF tyre would be expected. But it was the degree of fuel efficiency gains against the competing premium VF tyre that really impressed. The Optimal posting significant gains, with fuel consumption of 346g/kWh compared with 372g/kWh for the competing IF tyre, and 353g/kWh for the VF competitor. So what does this mean for the person who pays the fuel bills? Read on..
Operating Efficiency
Another way of testing the real world performance of the tyre was to look at the hectares worked per hour. This provides insight into the effect of the tyres on operating efficiency. Again, as expected, the Optimall provided significant gains, covering some 6.7% more area per hour (see figure 5 below).
Taking the analysis a step further, we look at the specific fuel consumption on a litre per 100 hectare basis. It's another way of looking at operational efficiencies and showing the relative advantage offered by tyre choice. Against the IF, the Vredestein tyre is 7.4% more fuel efficient.
Overall Operating Costs
So, we know the Optimall performs well against both leading IF and VF tyres. There are advantages in fuel consumption and area worked. So when it comes to the bottom line of overall operating costs, there's no surprises that we're dealing with a tyre here that offers some real advantages. We have a tyre which is capable of running at 7% greater efficiency when compared to a premium IF competitor. The devil is in the detail. Or in this case the cost of diesel and how much you burn through.
A Closer Look at the Optimall
What sits behind the impressive test performance? It's a blend of excellent traction and comfort with cost-effective performance...all on a tyre that is proven in NZ conditions. Here's a nice visual breakdown:
What's not listed in the table are the excellent self-cleaning properties of this tyre. The continuous clearing of soil means less rutting, less power is needed to get through the paddocks, hence less fuel is needed. Take that and add to it the continuous contact lug design to reduce scuffing, along with proven long life...and you get...simply one of the very best tyres you could ask for.
Optimal in More than Name
You can judge a tyre on many things. There'll be disagreement as to which is the single most important criteria. However, when we're talking about a tyre for a work machine, most would agree the operating cost is critical. When those operating costs are calculated over the total life of ownership, you have a pretty decent set of parameters to aid decision making. This is where the Vredestein Traxion Optimal is very hard to argue against. This tyre performs, it performs efficiently… and it lasts. It's a unique blend of operational savings over a prolonged lifespan. A compelling case for a tyre which is simply as good as we've seen.
From the experts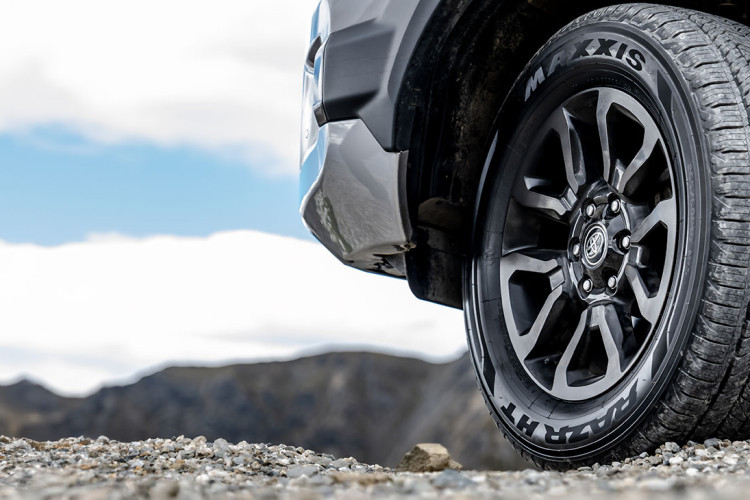 Product Spotlight:
Maxxis HT780 RAZR HT
From the experts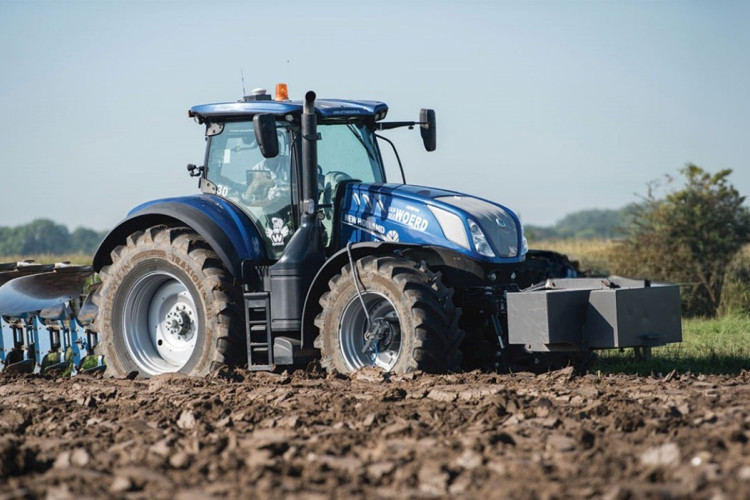 Understand the link between traction and compaction