The ultimate 4x4 all terrain tyre test
We're nuts about 4x4's in New Zealand. They're our best selling vehicles and we use them for everything. Which means many opt for an All-Terrain tyre that can (ideally) handle everything. Indeed, the appeal of the all-terrain tyre is in the ability to go from paddock to supermarket parking lot without stopping, or worrying about a change in performance. A good AT is all about balance. You should be comfortable and safe, both on and off-road.
Finding a reliable All Terrain tyre test is a struggle though. We know. Luckily, over in South Africa, SA 4X4 Magazine has recently completed the mother of all tests for All Terrain tyres. And New Zealand and South Africa do have some similarities. There is the shared love of rugby (for the benefit of our South African readers, the All Blacks have won 60% of clashes...just saying). Then there's the shared love of 4x4s, with the top two selling vehicles in South Africa being the Hilux and Ranger. They do call them 'bakkies' for some strange reason though.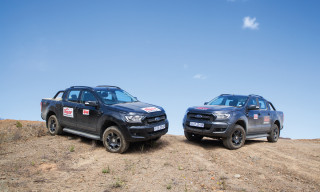 When it comes to 4x4 driving, they may have more sand than mud but need to make sure the tyres are up to the task just as much as we do in NZ. Using the world renowned Klipbokkop 4x4 Academy, SA 4X4 put 17 sets of tyres through their paces across 5 different tests. Each designed to push the tyres and test a specific aspect of performance. If you have a set of All Terrain tyres on your 4x4 or are thinking about buying some... you'll want to read the results to make sure your choice is as good on-road as off-road.
The Competitors
The testing was strictly monitored to ensure consistency of conditions, with representatives of the tyre brands on hand to make sure all was above board and fair. All testing was completed on a Ford Ranger FX4 Double Cab Auto. The tyres being tested were as follows:
Kumho Road Adventure AT51
GT Radial Adventuro AT3
Cooper Discoverer AT3
Michelin LTX AT2
Yokohama Geolander AT GO15
Firestone Destination A/T
Nexen Rodian Pro RA8
Bridgestone Dueler AT D694
Pirelli Scorpion AT/R
Dunlop Grandtrek AT3 G
BF Goodrich T/A KO2
Continental CrossContact AT
Hankook Dynapro ATM RF10
Dunlop Grandtrek AT3 M
Velocity Raptor AT
Goodyear Wrangler AT Adventure
General Grabber AT3

The Different Testing Disciplines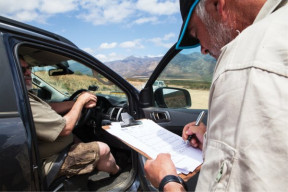 Braking distance on tarmac
Test 1 was all about braking distance on tarmac. The Ranger was sped up to 100km/h then the brakes slammed on. The distance to standstill was measured and tyres ranked by the shortest distance. Top place went to the Dunlop AT3M, coming to a standstill in 45.31 metres. Quite a distance later (over 7 metres) and in the last place, was the BF Goodrich. It was the only tyre to require in excess of 50 metres to come to a halt.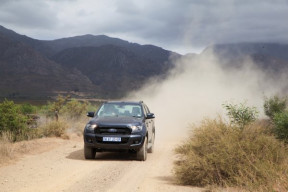 Braking distance on gravel
Test 2 was similar but completed on a gravel surface (and we have plenty of them in New Zealand). The speed was reduced to 80km/hr and the track was swept after each test to ensure condition consistency. Top place went to the Velocity tyres, stopping in 34.73 metres. Last place was the Cooper with a stopping distance of 38.31 metres.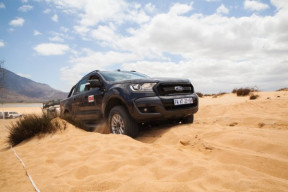 Sand Towing
For Test 3, it was time for some sand. A trailer weighing 650kg was hitched on, then had 150kg of weight dumped in it (so 750kg total). Tyres were tested until they could go no further through the sand with a 10 degree incline. The only tyre to make it to 40 metres was the Goodyear, followed by the General tyre. Last place went to Pirelli, managing just 31.90 metres before coming to a standstill, unable to carry on.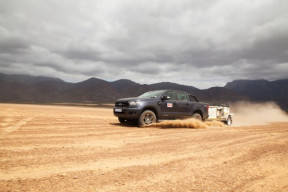 Gravel Acceleration
Next up was accelerating in gravel to test traction. For Test 4, the premise was that the better the traction, the quicker the tyres would propel the Ranger to the desired 80km/h. Only two tyres made it in under 7 seconds. First place went to Continental at 6.97 seconds, followed very closely by General at 6.98. Dragging its heels, was the Kumho at 8.33 seconds.
Incline towing
The final test was a goodie, designed to challenge tyre climbing ability on an incline. The 650kg trailer was hitched on again and the Ranger's traction control turned off. The task was then to try and ascend in first gear low range at 2000rpm. Maximum points were scored for completing the course, whilst points were deducted for those that couldn't make it or needed assistance by activating the Rangers safety override on the electronic brake distribution and stability control systems. This happened with a small number of tyres, including with the BF Goodrich, which both failed to complete the course and activated the safety override. Most others made it to the top okay. Surprisingly, some of the tyres you'd expect to struggle because of their aggressive tyre patterns and stiffer sidewalls, actually did okay. Namely, the Dunlop Grandtrek AT3 Gs, Velocity and Raptors and Hankook Dynapros, who all clawed their way through to the top. Fails were registered by the previously mentioned BF Goodrich, GT Radial , Nexen, Pirelli, Yokohama and Kumho.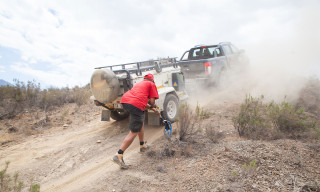 The Results
Once all the tests were completed, scores were added up and the order established. If you're keen to see where your tyres came, then scroll down now. But if you can resist for a second, we'd like to make a few quick points. These tests were completed in South Africa and not New Zealand. We have to accept our roads are unique to us, therefore the conditions the tyres face over here are unique. That said, the testing does give a good indication of performance for many of the tyres you'll see on the road in New Zealand. Overall, they perform admirably. As expected though, some are better than others and, as with any test, there has to be a winner. So...

Here's the final rundown, in reverse order:
17. Kumho Road Venture AT51
16. Yokohama Geolander AT GO15
15. Pirelli Scorpion AT/R
14. Hankook Dynapro ATM RF10
13. Cooper Discoverer AT3
12. Nexian Roadian Pro RA8
11. BF Goodrich T/A KO2
10. Velocity Raptor AT
9. GT Radial Adventuro AT3
8. Firestone Destination A/T
7. Dunlop Grandtrek AT3 G
6. Dunlop Grandtrek AT3 M
5. MIchelin LTX AT2
4. Bridgestone Dueler ATD694
3. Continental CrossContact AT
2. Goodyear Wrangler AT Adventure
In 1st place, the accolades and congratulations need to go to the tyre which performed consistently well. It delivered on different surfaces, with good traction and good stopping power. Indeed, if the key to a great A/T tyre is consistent performance which simply does what it's supposed to on and off-road, then…
...the winner is the General Grabber AT3.
So there we have it. If you want an All Terrain Tyre that performs in... well... all terrain, then you need the General Grabber AT3.
From the experts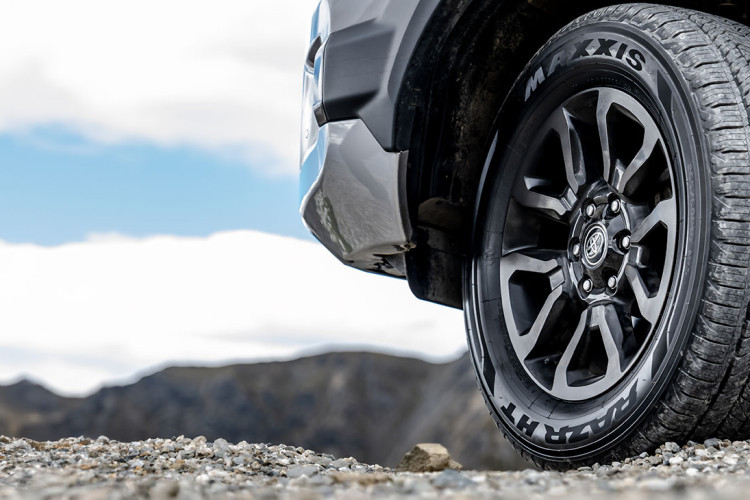 Product Spotlight:
Maxxis HT780 RAZR HT
From the experts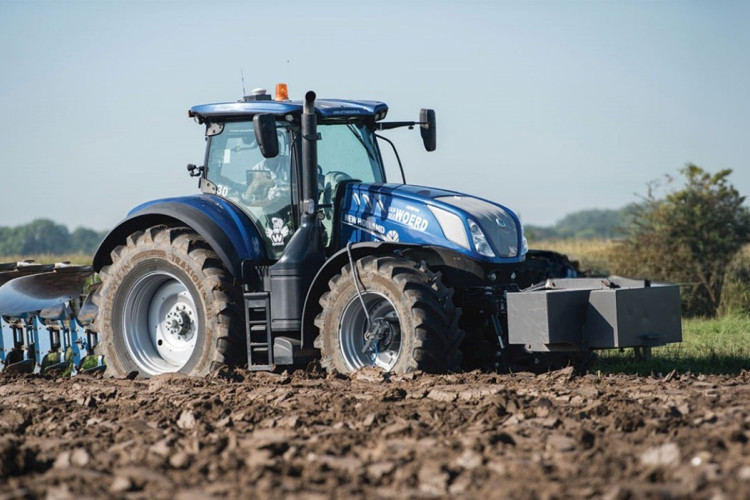 Understand the link between traction and compaction