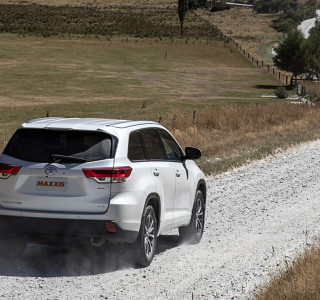 Your Guide to SUV Tyres
It's the vehicle that defines this generation. From the school pick-up run to the rugby fields on a Saturday morning. Loaded with children, shopping, camping gear, suitcases, dogs and more. The SUV has something for everyone.

Such a versatile piece of engineering genius requires the right rubber. To find what's right for you, read on...
Compact, Mid Size or Full Size? 2WD, AWD or 4WD?
Before we get to the tyres we must understand the SUV. For they come in multiple sizes and in a confusing array of options. They might be described as anything from sub-compact to luxury full size. Let's keep it simple though. Your SUV will either be built on a unibody (essentially a car chassis) or body-on-frame (as used by 4x4's). For example, the Toyota RAV4 and Highlander are both built on a unibody. The Toyota Fortuner is based on a Hilux body-on-frame. The Prado and LandCruiser are also body-on-frame constructions.
A SUV built on a unibody chassis will come as either a 2WD or AWD. A SUV with a body-on-frame construction might be full-time or part-time 4WD. It will come with a 4WD Low option. This is what you need if you plan on traversing rocks, mud and doing some off-roading.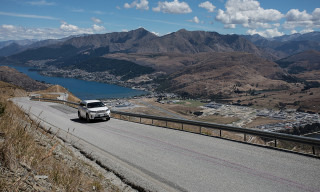 Different SUV Tyres
So which tyres do you need? That depends on what you want to do. You wear dress shoes for formal occasions, trainers for running and gumboots for the paddock. Tyres are much the same. Well...not quite…
Highway Tyres
Optimised for the road. Highway tyres put their energy into providing the grip needed at speed. They have specially designed sipes for rapid water dispersal and are generally pretty quiet. If you spend your time traversing the highways and byways of NZ then your SUV will be more comfortable and stable on Highway Tyres.
All Terrain Tyres
Characterised by chunkier tread blocks, these tyres are as at home off-road as on it. Designed for moderate off-road use, they'll make it through a bit of mud and are good for that trip to visit your mate on a farm...then to drive through his paddocks to spray some mud around. Unless you choose carefully though, they could be a little louder on the road and not quite as good in the wet.
What are SUVs used for?
Oh boy. It depends on what SUV you have but generally speaking they're great for practically anything. The typically higher ground clearance makes them ideal for being a bit more adventurous and heading away to that remote camping spot. The power and torque means you can tow the boat no problem. The interior room allows you to pile in the kids, the dog, the bags and the shopping. So SUV's are a family wagon, an adventure wagon, an everyday wagon…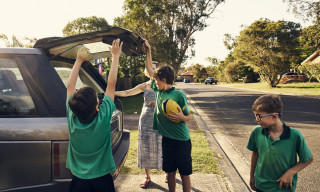 SUV Tyre Construction
Not too dissimilar from car tyres. The biggest difference is the need to cope with the added weight of the SUV and how that weight can be transferred during braking and cornering (the fabled SUV 'body-roll' issue caused by a higher centre of gravity). So some internal reinforcements and bracing is called for. The more advanced SUV tyres have what's known as 'Dual Zone' or 'Adaptive Response' sidewalls. These tyres remain flexible to absorb road imperfections for a smooth ride but when under pressure, firm up and stiffen for added stability and directional control. It's really very smart.
How to Choose a SUV Tyre
Original Fitment. That first drive of a new SUV is something to be savoured. You can't get that back but the next best thing is replacing the tyres with the same as those it came with. Doing so will help maintain the same quietness on the road and the same fuel economy. If that's not an option though...here's what you need to consider:
Handling. Despite being much heavier and with an elevated centre of gravity, the expectation is that SUVs drive like a car. The physics of it all is very demanding on tyres, so look for a tyre specifically designed for a SUV.
Braking. That heavy SUV needs to be able to stop quickly and safely. Check to see if the tyres you're looking at have a proven track record in wet and dry braking.
Quietness. It's all about noise breakers and noise cancellation technology. Tyre noise comes from the air being compressed in the tread gaps as they hit the tarmac. The cleverer tyres will have developed a special tread pattern to help silence the road noise.
Treadwear. Long gone is the time when you had to trade off treadwear against safety. High quality modern tyres will provide the performance you need for a lengthy duration.
Offroad. If you plan on turning off the tarmac then you need a tyre with some resilience. Look for a robust construction to withstand damage. But remember you don't want to compromise on-road performance, a quality all terrain tyre can do both.
Genuine Product. Parallel-imported product is likely still made by the named manufacturer but is usually surplus stock from other markets - which more often than not means that it's sat in another country from some years before arriving on our shores. In addition to this it might not be covered by the manufacturer's warranty. Choose with care.
SUV History
That the SUV comes from good pedigree cannot be disputed. The first SUV? That can be disputed. It might be the Japanese built Kurogane Type 95 (1936). Or it could be the Russian GAZ-61 (1938). Both meet the dictionary definition of SUV; "...a powerful vehicle with 4 wheel drive that can be driven over rough terrain. SUV is an abbreviation for sport utility vehicle".
These weren't your every day vehicles though. Neither were they sold to the public. What you might be surprised to learn is that the first SUV sold to 'Ma & Pa' owners is widely believed to the Willys Jeep (1945). This was shortly followed by the original Series 1 Land Rover (1948). So, your SUV can trace its roots back to the most iconic 4 wheels drives ever made.
The design elements that make the more modern SUV are also somewhat in dispute. Cited in various places is the 1970 Range Rover. You can see why too. The elevated seated position, off-road capability and expectation to drive more like a car are all there. We imagine it was used for shopping trips and transporting the family dog too.
However, if we go by the term SUV, it was first used around the same time as the Jeep Cherokee (1984) came to prominence. The first unibody design 4x4, it was a huge success largely because it appealed to those who didn't want a vehicle that so clearly resembled a 4x4.
It's not all been smooth sailing for SUVs but the last decade has witnessed an explosion in demand. The range has expanded to cater for everyone from baby boomers to energy conscious millennials (for SUVs are no longer the gas guzzling beasts of yesteryear). The future certainly seems pretty rosy, with expectations for sales to continue to grow for some time yet. Yup - there are more chapters of the SUV story yet to be written.

SUVs You Need to Know
With so many flavours of SUV we thought it best to curate a list of some of the extra special versions out there…
For Top Speed
Take a look at the Bentley Bentayga. Better make it quick though, it'll move past you at an incredible 306 km/h. That'll definitely get the ice creams home from the dairy before they melt.
For Acceleration
Beating many supercars off the line...is the immense electric powered Tesla X. It'll go from 0 to 100mph in 2.8 seconds. So, like the flick of an electric switch then.
For Sheer Size
That'll be the Ford Excursion. Based on the F250 Super Duty pick up-truck, it was a mammoth 5.78 metres long. The largest SUV currently in production is the Chevy Suburban.
For the Funk
Now largely forgotten, the Isuzu Vehicross doesn't really look like anything that came before it or since. Such bravery in design doesn't always get rewarded with adulation it would seem as most have ever heard of this classic.
For Uniqueness (as no-one else wants one)
Behold the Suzuki X-90. It's not sporty like a normal convertible. It doesn't have heaps of interior room like a normal SUV. It's...just erm…different.
For Party Tricks
Any SUV that can travel upside down has to be pretty special and worthy of note. Like the Jaguar F Pace that debuted at the Frankfurt Motor Show with a 'loop the loop' - no mean feat and something that the driver had to prep for for some months, given that doing a loop the loop in an F-Pace apparently means more G-forces than what an astronaut encounters on take-off.
For the Very Wealthy
Coming in at over NZ$3million is the Karlmann King. It's like a stealth Fighter on wheels (but is actually a Ford underneath all that strangely seductive angular panelling).
By the Numbers
New Zealand's Top Selling SUVs
We are so very fond of them. Even more so than the Ute, with 2020 vehicle sales (so far) showing a staggering 43.8% (67,658) of all new vehicles sold to be SUVs. That's almost double the number of Ute's sold (37,066).
Following the worldwide trend, the Rav4 takes top spot, followed by the Mazda CX5 and then the Kia Sportage. We should also note the Rav4 claimed top spot in the hybrid sales slot.
Here's the top 10 selling SUVs in NZ:
Toyota Rav4 5,608
Mazda CX-5 3,312
Kia Sportage 3,272
Mitsubishi Outlander 2,840
Mitsubishi ASX 2,669
Nissan Qashqai 2,590
Hyundai Tucson 2,407
Nissan X Trail 2,101
Hyundai Kona 1,838
Hyundai Santa Fe 1,478
Worldwide
These models might sound familiar. Turns out the rest of the SUV-driving world is much like us. Top of the charts in worldwide sales is the Rav4. Here's the full rundown:
Toyota Rav4 947,919
Honda CRV 811,209
Volkswagen Tiguan 736,885
Hyundai Tucson 530,169
Nissan Qashqai 498,915
Kia Sportage 477,961
Chevrolet/Holden Equinox 430,714
Mazda CX-5 426,767
Haval H6 392,605
Nissan Rogue 389,582
Tyres we trust to get you there safely.
Your SUV needs to get to school, the beach hut, and back again. These are our recommendations to keep your precious cargo safe.
From the experts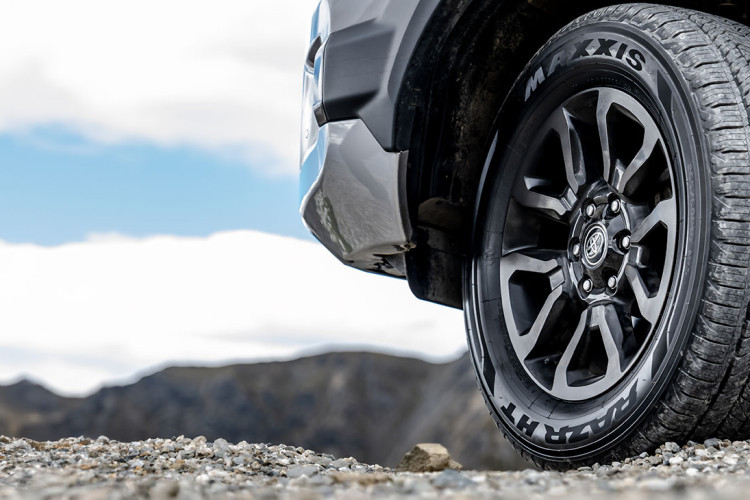 Product Spotlight:
Maxxis HT780 RAZR HT
From the experts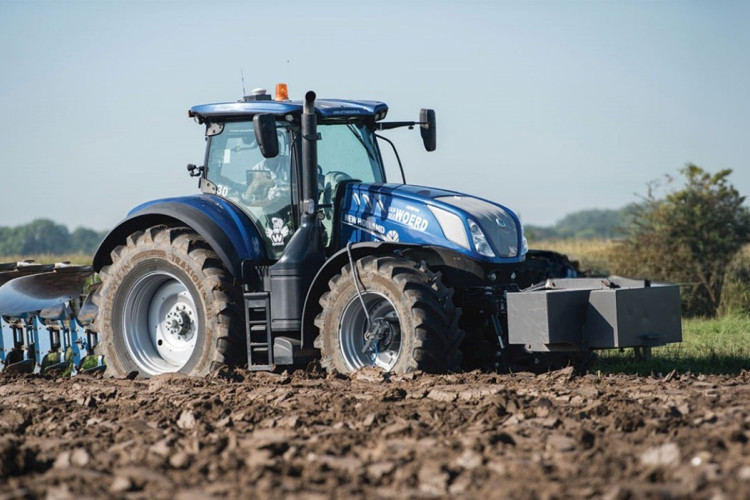 Understand the link between traction and compaction