The most popular vehicles of 2020
2020 was the year the wheels fell off. An unprecedented disruption to normality that will hopefully never be repeated. From worldwide logistical issues to toilet paper shortages… it was the year the world took a detour down a bumpy old road full of potholes. And puddles. And mud. Maybe littered with a few nails and sharp sticks. And the odd possum standing 6ft tall, holding a hand grenade and a fluffy toy with the head ripped off. You get the idea, it got weird.
Did it change our appetite for new cars though? Were we all affected enough by the madness to rush out and purchase a Piaggio? One person was in June 2020. As for the rest of us…
2020 Trends
It wasn't as bad as it could have been. Because back in April 2020 it was looking very bleak indeed. New car sales were down by 90% as showrooms shut up shop, only essential vehicles shifting in any numbers.
As we moved back down the lockdown levels, sales started to increase again. By December sales had made up some ground, the final year end result coming in at 23% down vs 2019. That was below the Motor Industry Association's own prediction of -35% for the year. Pretty decent considering it was already predicted sales would contract a little after a few strong years of growth.
Did the slump make itself more or less known in any segment? Did we all decide now was the time to trade in the gas guzzlers for an eco friendly electric car? Not when it comes to the cutting edge end of the electric market. Indeed, sales of pure electric vehicles were down 338 on the previous year, whilst PHEVs (Plug In Hybrid Electric Vehicle) recorded a contraction in sales by 170 units. That said, your 'everyday' hybrid sales were up by 2,789 units (40%) with the hybrid Toyota Rav4 leading the way and shifting 3,830 units. That's a decent leap in anyone's book.
As for the glamour boy of the electric world, Tesla managed to shift 511 Model 3's, 55 of the Model X and 27 of the Model S. So that's 27 people driving an electric vehicle with a top speed of 322 km/h. 27 people getting their hands on what has to be the coolest steering wheel we've ever seen in a car.
Everything else was pretty much as expected. Well, almost. There were a couple of climbers in the sales charts. Including one you'd not guess either…
The Top Sellers
Yes, top spot was between the Ford Ranger and Toyota Hilux. We'll get to that inevitable showdown in a bit. First, we need to highlight the meteoric rise of the humble Kia Seltos.
A small SUV, the Seltos rocketed up the charts to become the 6th best selling vehicle of 2020, following its launch in late 2019. What's behind the popularity? Well, the price is reasonable, starting at less than $30k for the base model. For that, you get quite a bit of car along with Kia's growing reputation for quality and their impressive 5 year/100,000km warranty. Indeed, as some manufacturers rely heavily on pre-purchase sweeteners and offers to seal the deal, Kia has let their post purchase service do the talking. It's an approach that seems to be working. Especially so given the Kia Sportage also climbed a few places in the charts, claiming 5th in overall sales for 2020.
Elsewhere, the Suzuki Vitara made some gains. With 1267 units sold, it moved up from 29th to become the 20th best selling vehicle. That said, their sales were actually down on 2019, when they sold 1363 units. Covid obviously affected demand for some vehicles more than others and has distorted chart positions a little.
Nissan seemed to be feeling the pinch a bit. The Navara saw sales decline from 3305 to 2362 units. At the same time, the Qashqai went from 2590 to 1742 and the X-Trail dropped units sold from 2101 to 1546.
That pinch was a little tighter for the mighty Corolla. A stalwart of the charts since forever, it slipped from 3rd position down to 8th. Which sounds worse when you look at the numbers behind the slip, Toyota selling less than half of the previous year, the units shipped reducing from 6804 to 2567. We're guessing this particular figure has a lot to do with rental fleets not replenishing their stock in 2020.
Kia Seltos

Suzuki Vitara

Toyota Corolla

Nissan Qashqai

Nissan Navara
Right then - try not to skip down and look at the table (although you've already peeked, haven't you?). We'll build up to the top spot with the Top 5 countdown. Which raises the question... do you really build up to a countdown? Anyway... moving on:
2020 Vehicle Sales - ranked: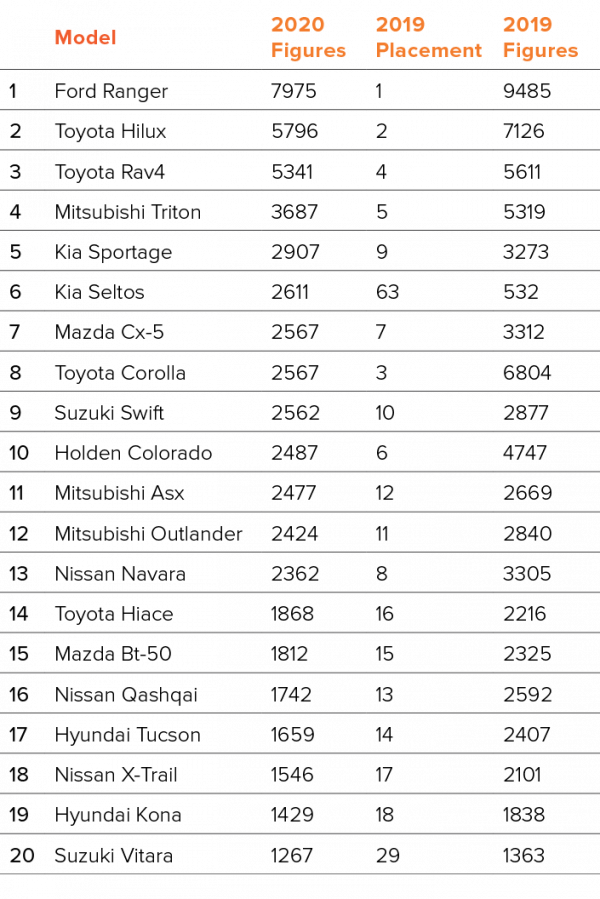 The Rest
Not everyone is the same and part of the beauty of life is the ability for freedom of expression to show itself through our purchases. Which is the case with some vehicles notable for selling just a handful of units.
Case in point is the solitary sale of a Fraser in December 2020. We'll confess to needing to look up exactly what a 'Fraser' is. Turns out, they're some pretty fine looking Lotus 7 replicas.
Elsewhere, we should note there were 26 proud new Lamborghini owners, 36 happy (we assume) new Ferrari owners and 42 new Aston Martin owners.
To round off the round up of the rest (go on - say that quickly)... a shout out to Haval. They now sell more cars in NZ than Peugeot. They also outsell Lexus and Jeep in NZ. That's not bad going for the Chinese manufacturer behind Great Wall.
Finally, just in case there are some Toyota fans out there smarting over the loss to the Ranger for top spot, there is some solace. In the war of the most popular manufacturers, Toyota maintains top spot with 20% of total vehicle sales, double that of Ford at 10%.
There… you win some, you lose some. We have a feeling the debate between which is better, a Ranger or a Hilux, is far from over though. We doubt many arguments are based solely on numbers sold either.
From the experts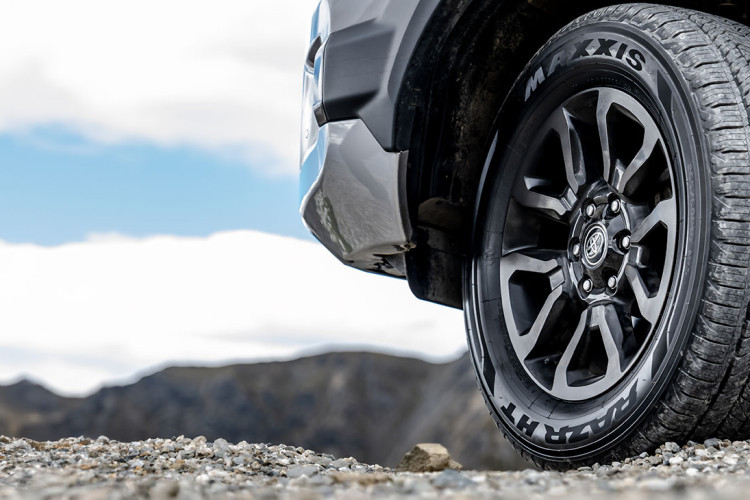 Product Spotlight:
Maxxis HT780 RAZR HT
From the experts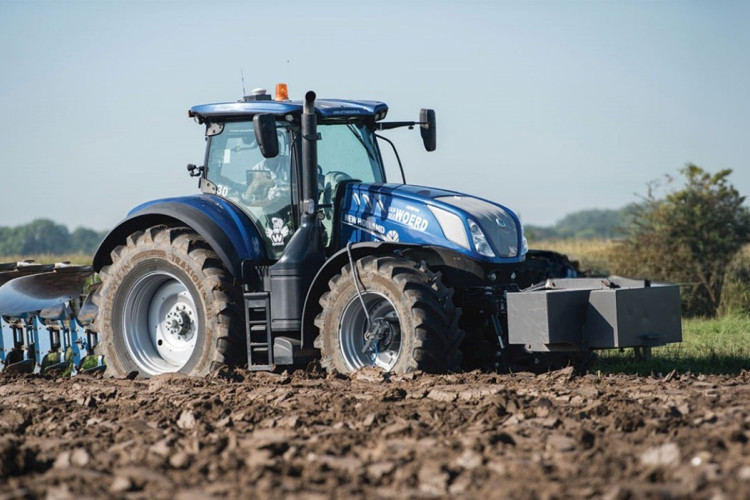 Understand the link between traction and compaction